Whaling in Iceland - TAF trip 2017
20 species including white-sided dolphins
Endangered Fin whales

Minke whales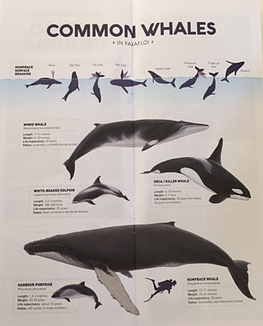 Endangered Fin whales and Minke whales 
Whale meat consumed in Iceland
2-3% of Icelandic people eat whale meat. It is not an Icelandic tradition!

20% of tourists visiting Iceland consume whale meat with mistaken belief that this is a traditional dish.
In 2017, approx. 20 out of 80 restaurants serve whale meat and the local supermarkets as Nettó, Bónus and Krambúð sell it.  Hrefna is the name of Minke whale.
The rest of the meat is mainly exported to Japan.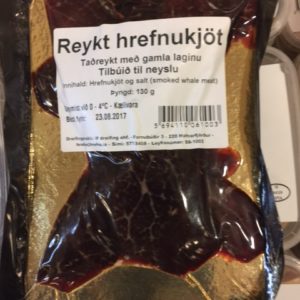 Hvalur H/F has been known to incorporate whale meat into luxury pet food, novelty whale beer and even to use whale blubber to fuel their whaling vessels – considering it an Eco-friendly alternative.
Iceland's whaling industry is creating new commercially valuable products including whale meal/animal feed and whale oil.
Iceland has also been working on new applications for whale products.
Whaling history in Iceland
In 2017: 17 Minke whales were killed as by August 2017. The current quota allows for 269 animals to be caught, "if necessary we will import whale meat from Norway in order to meet demand", says Gunnar Bergmann Jónsson.
In March 2016: Hvalur H/F announced the cessation of Fin whaling during the summer but still a shipment of 1,530 tons whale meat was shipped to Japan in July 2016. (valued at 15 million USD).

Iceland's self-allocated quota for killing was 154 Fin whales and 224 Minke whales.
Kristjan Loftsson said the only reason not to hunt in 2016 was due to difficulties in exporting his meat from Iceland to his only customer, Japan.  Read more.
In 2016: 46 Minke whales were killed
Icelandic whalers have slaughtered more than 35,000 whales since the late nineteenth century and 706 endangered Fin whales during the period 2006-2016
Iceland refuses to recognise the IWC moratorium on commercial whaling and currently allocates its whalers a quota to kill endangered Fin whales mostly for export, as well as Minke whales to service domestic demand mostly from tourists.
Hvalur H/F whale slaughter place in Hvalfjorour; A whaling "factory" – a substantial yellow building with no signs or names but everything is kept in excellent condition including the 2 large refrigerated containers which are kept running. His two whaling vessels in Reykjavik are under observations and are also kept in perfect condition. What are they waiting for? This is apparently not a closed chapter for Hvalur H/F!
In 2015: 155 Fin whales and 29 Minke whales were killed.
In 2014: 137 Fin whales and 24 Minke whales were hunted and killed. Revenues from the sale of whale products was in 2014 roughly one billion krona. At the same time, the cost of whaling operations exceeded two billion (15 million USD). The company's whaling operations therefore generated a billion ISK loss in 2014.
In 2013: Icelandic whalers killed 134 Fin whales and 38 Minke whales.

The loss on whaling operations was 600 million ISK (4.5 million USD).

In 2011-2012: There was no hunting as the Japanese market for Fin whale meat collapsed due to tsunami and earthquake, however quotas were increased to 154 Fin and 216 Minke whales.
2010: 148 endangered Fin whales and 60 Minke whales were killed. This was the largest commercial whale hunt in decades, due to promotion of the whale meat as protein source!
2009: 125 Fin whales and 81 Minke whales were killed as the Icelandic government increased the commercial hunt quotas.
2007-2008: 38 Minke whales killed.
2003-2007: 200 Minke whales and 7 Fin whales were killed.
2002: Iceland rejoined IWC in 2002 with a legally disputed reservation against the moratorium.

IWC (International Whaling Commission) agreed in 1982 to stop all commercial whaling by the 1986 whaling season
Iceland continued a small "scientific whaling" program, and killed 60 whales a year until 1989, but then left the IWC in 1992.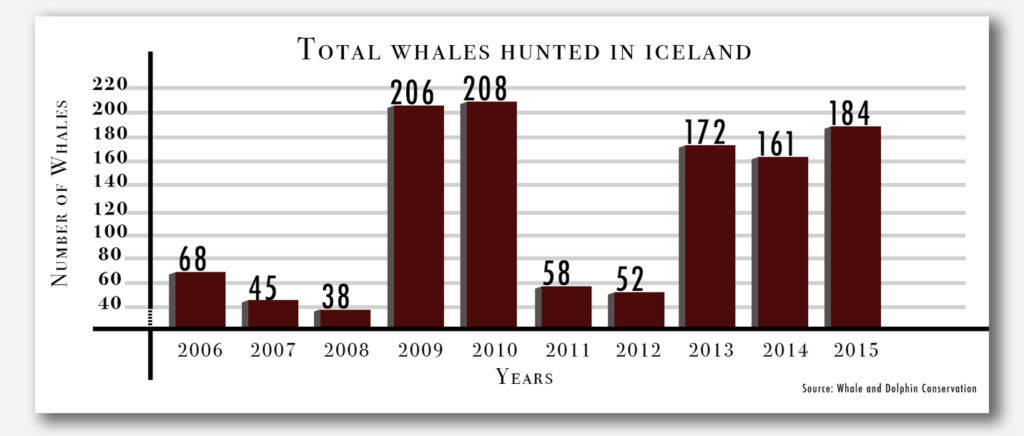 Despite official rules banning the hunting of Fin whales since 2016, his 2 boats and factory which we found, are maintained to perfection, so he is ready to resume his Fin whale hunting. He is also quoted as liking the hunt and says that it is a hobby for him!
The Icelandic company, Hvalur H/F, dates back to 1948 when it was established by Kristján Loftsson's father.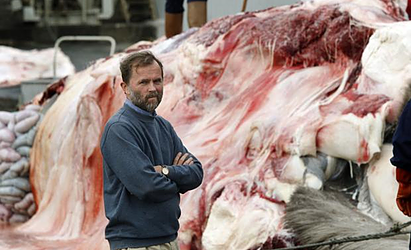 Kristjan Loftsson's slogan: "Whales are just another fish, an abundant marine resource, nothing else."
Key people & contacts:
P.O. Box 233. Hafnarfjordur. Tel: +354 555 0565. Email: kl@kvalur.is
Managing Director: Mr. Kristjan Loftsson. Phone: +354 555 0565. Email: kl@kvalur.is
CFO: Mr. Gudmundur Steinbach. Phone: +354 555-0565.  Email: gs@hvalur.is
A whale hunter and the manager of the whaling company, IP Útgerð ehf. Contact: Gunnar Bergmann Jónsson . Address: Melási 3, 210 Garðabæ, Iceland. Telephone: +354 517 6177 / +354 690 3408.
Gunnar Bergmann Jónsson has very good connections within Iceland's government and is said to be sponsored by Kristjan Loftsson.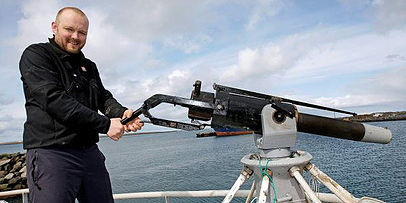 Gunnar Bergmann Jónsson with an official license to kill!
Kristjan Loftsson first participated in the family whaling business in 1956 at the age of 13 as a scout on his father's boat.
The family company, called Hvalur, purchased the American naval base at the head of the 18-mile long Hval fjord, 35 miles north east of Reykjavik, to operate in the Denmark Strait between Iceland and Greenland.
The company owns four catcher ships, although only two are currently in service, named Hvalur 6, 7, 8, and 9.
When whales are spotted, the catcher ships will engage in pursuit. A 90 mm cannon with a grenade tipped harpoon is fired at the target whale. A rope is trailed from the harpoon in order to prevent the whale from being lost.
Each caught whale is secured to the side of a harpoon ship with rope and later towed to a shore station located at Hvalfjörður. (a large yellow building with no identification to the public)
Once at the shore station, ropes are used to winch the carcass ashore where workers use specialized tools to butcher the whale.
Fin whale meat has been shipped to Japan via EU ports until 2013, and due to massive protest, the shipment has been forced to find alternatives routes. These routes have been from Vancouver and around the coast of Africa to reach Japan with 1,500-2,017 tons of frozen Islandic whale meat.
Minke whale meat has been exported to the Faroe Islands and also imported from Norway. But due to its high level of mercury and toxins it has been advised that pregnant women and young children should not eat it.
In 2016, Iceland released its long overdue report on whaling which claimed that Iceland's whaling is sustainable.
In 2015, Hvalur hf whaling operations generated roughly a billion ISK in losses (7.5 million USD/6.8 million EUR).
Far more profitable than whaling and immensely valuable to the Icelandic economy: 1 in 5 of all tourists take a whale watch trip.
More than 250.000 tourists went whale watching in 2016 and generated approx.12 million dollars annually.
Husavik has 4 whale companies. Every summer each company has 12 whale watching trips per day with many boats and passages.
Gentle Giants is the oldest whale watch company in Iceland and has 5 rib boats and 2 large boats. The rib boats goes out 3 times per day with approximately 12 passengers. The larger boats goes out 12 times per day and can take up to 40 passengers. It's a huge business.
North sailing (another whale watch company) is even bigger and owns 12 boats.
Marine biologists (and friends of TAF ) were there to measure the noise level of the cruise ships and whale boats to prove how disturbing it is to whales. They told us that in Husavik there is also a factory executing explosions in the sea and adding to the disturbance of the whales.
In 2017, they expect 350,000 tourists to make a whale watching trip (more than the entire population of Iceland) and to generate more than USD 13 million.
Whale watching now represents the second largest leisure sector in Icelandic tourism.
In 2009, around 125,000 people took a whale watching trip in Icelandic waters. These whale watchers provide significant revenue of more than US$4 million in direct taxes to the Icelandic economy, as well as add-on tourism expenditures such as hotel and restaurant purchases.
Total income from tourism in 2017 is expected to reach about USD 5.1 billion, or 45 percent of Iceland's foreign income.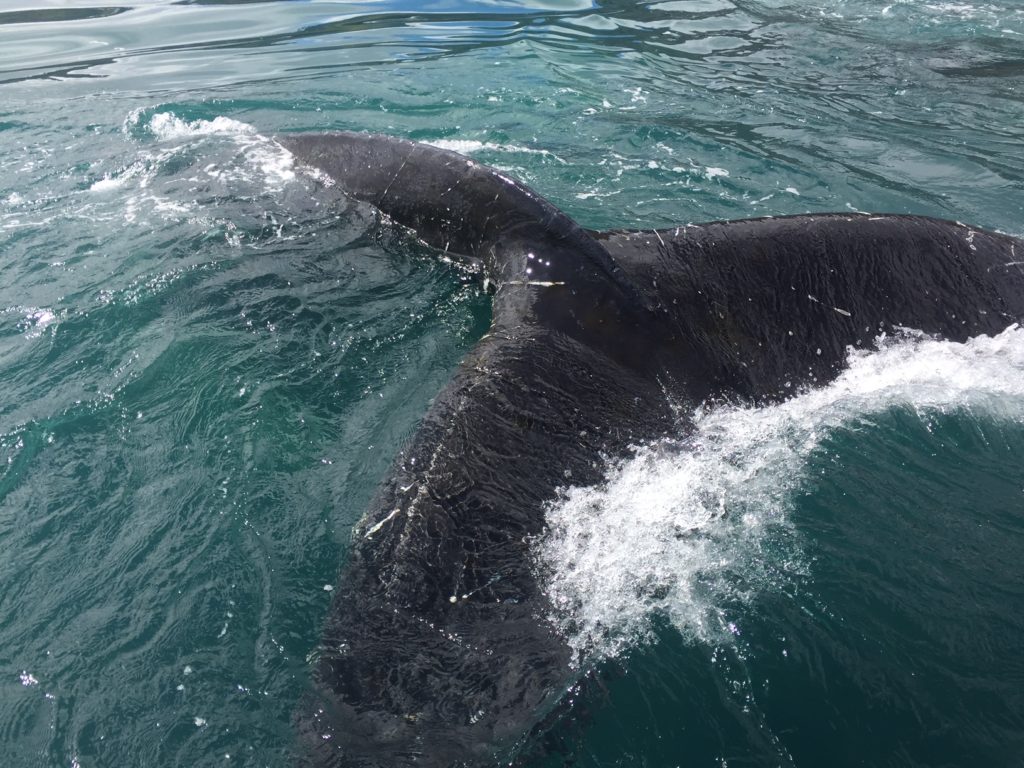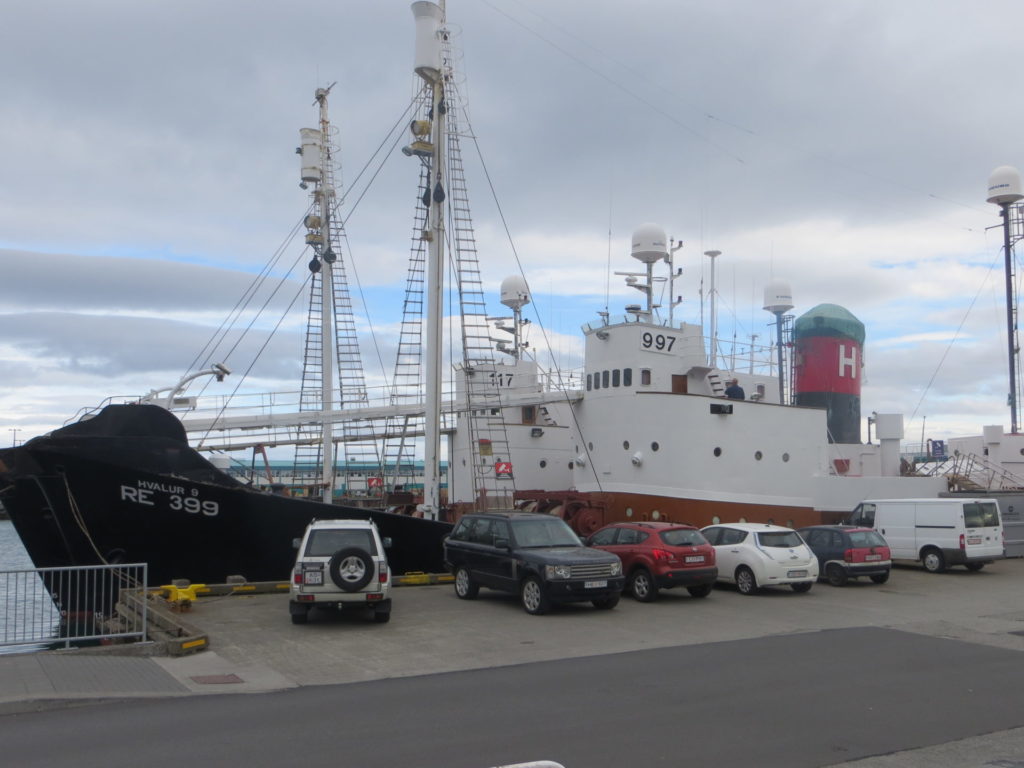 H/F whaling boats in Reykjavik next to Elding whale watching!
TAF's opinion and what to do?
Iceland is a beautiful country with amazing nature. It does not have a long history of whaling. With its massive income from tourism, it is absurd to destroy their own generated whale watching income by killing whales in the same water as well as proposing whale meat in restaurants close to the whale watching boats! The tourists come to see whales alive in their natural environment and not dead in a whale boat!
Given that whales are very important to humanity, already endangered, highly affected by environmental issues, no current data to show their sustainability, and their meat has been proven to contain toxins, – we can only advise to STOP whaling immediately.
Think twice before going on a whale watching trip; make sure the captain knows what he is doing, do not get too close to the whales and respect the codes implemented by the whale watching companies. Remember the whales are there to feed and need peace and not continuous disturbance from boats and screaming passengers.

According to the International Fund for Animal Welfare (IFAW) research, "Eighty percent of the Minke whales killed in Iceland are harpooned close to the whale watching area in Faxaflói bay outside Reykjavík." With whaling and whale watching taking place in similar areas, many tourists don't realize the same whale they ogled in the morning might very well end up on their dinner plate the following evening.
TAF's advice to Iceland's whale watching companies
There are too many trips per day per company, it disturbs the whales who come there to feed. In the summer period, there are up to 12 trips per boat per day!
Raise the prices significantly to go whale watching to ensure that it's only the people who really do care about nature and the majestic creatures who take the trips and not just gratuitous tourists doing frivolous things on a vacation.
Respect the whales and keep a much greater distance from them (today's guidelines of 50-100 m are far too close).
Support IFAW and ICEwhale http://icewhale.is/about-icewhale/
IFAW/ Sigursteinn Másson is doing a great job teaching in schools and whale watching companies about the danger of the killing and consuming endangered whales with their campaign 

"Meet us – Don't eat us"

. Read more about this campaign. 
Ban those one who won't implement this like: "Ambassador whale watch".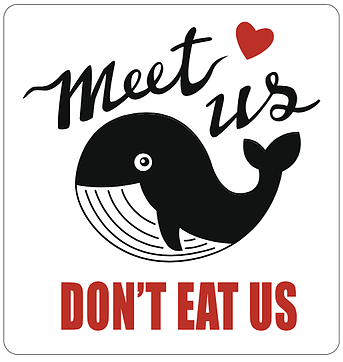 Let your voice be heard and sign the petition!
81% of Icelanders never buy whale meat.
80% or more of Minke whale is trashed after killing.
60 agonizing minutes can pass for a whale to die after it is shot with an explosive harpoon.
100% of Minke whales are killed next to the whale watching area in Reykjavik.
JULY 2017: Iceland's whaling policy to be reviewed?
'We need to have this debate,' said Minister Gunnarsdottir in a meeting in which she took receipt of a petition signed by 7,000 people supporting a request by the Association of Tourism Services, whale watch operators, and Reykjavik City Council, to turn Iceland's Faxaflói bay into an official whale sanctuary (allowing whale watching but not whale hunting within it).
She also stated; 'it's fairly clear in the long run that we are not going to live with this [whaling] policy forever and ever.'
So, there is HOPE for the end of whaling in Iceland BUT will the whale watching explode further? It is already having a damaging effect on the whales feeding and behavior!