A TAF volunteer's diary - Trip To Iceland 14-18 June 2017
Iceland is a country with a population of approximately only 350,000 but a fast-growing tourist industry with over 2,5 million tourists expected in 2017.
The purpose of our trip to Iceland was to see for ourselves what the situation is today with the killing of whales.
We arrived in Reykjavik early afternoon on 14 June.
There was no time to lose, our trip was a short one and we had a mission to accomplish.
Once we had collected the hire car we headed off towards Reykjavik center but with an important stop on the way….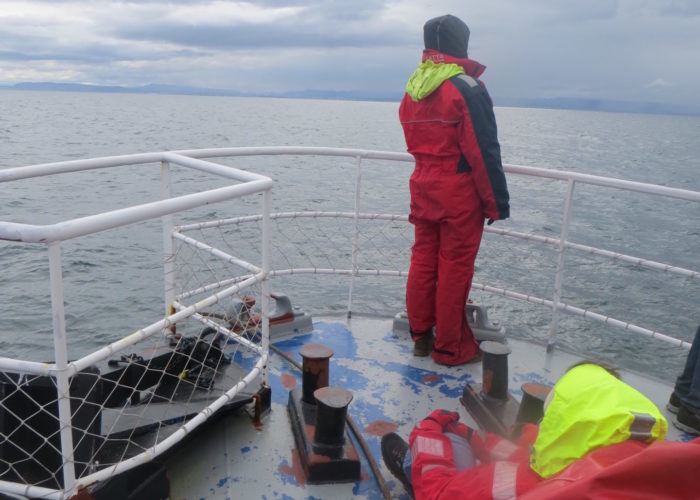 Kristjan Loftsson is the richest man in Iceland and has received some very bad publicity in recent years because he is the man behind Iceland's whaling industry exporting large quantities of whale meat to Japan for large sums of money.
His factory/warehouse is reported to be in Hvalfjorour so that was where we were heading.
Hvalfjorour is not that small and we had no address so we had to stop and ask locals if they knew where the warehouse was.
The locals seemed reluctant to give out too much information. Whaling is very controversial, now banned throughout the world with the exception of a few countries of which Iceland is one.
Luckily for us we found a jogger who was happy to take a rest and give us some directions to "a large yellow building" not too far away. He told us that no-one was killing whales anymore because Japan was no longer accepting whale meat from Iceland, saying that it was too toxic to eat.
The directions we were given were not very precise but through a bit of group detective work we managed to find a large building with no sign anywhere of which company it belonged to, nor any sign of life apart from a large container which was connected to a generator.
Was this cold storage? There were security cameras everywhere and the place was immaculately kept albeit somewhat old.  We spotted a local resident returning to his house with shopping so hurried over to ask whether this was the factory of Kristjan Loftsson. We were told yes and that there was often activity going one.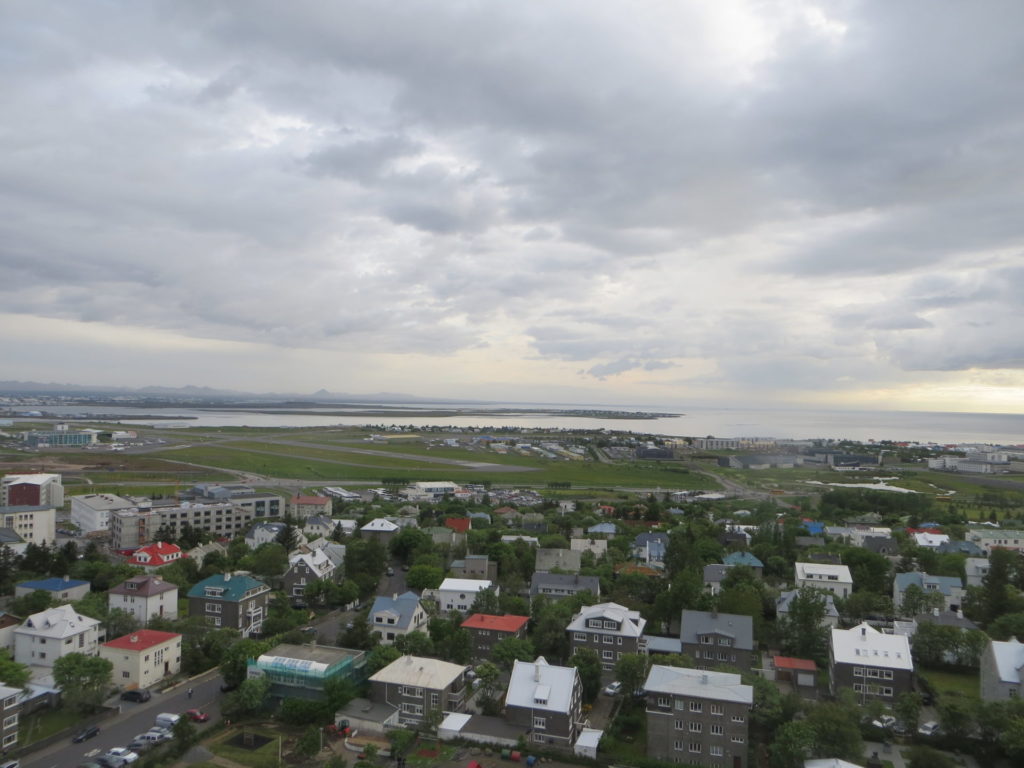 Is there now another danger?
So much for the rumors that the whaling had now stopped!
We took photos and filmed and continued on to Reykjavik.
The next morning Berit had arranged an early meeting (8am) with Sigursteinn Masson from IFAW.  Sigursteinn told us that the IWC voted for a total ban on whaling in 1986 and for 20 years Iceland obliged.
Then Kristjan Loftsson re-started in 2009. Once again, we were told that Loftsson has not been whaling for the past two years mainly because the trade with Japan is finished. It is possible that he is funding the two main whaling companies that are still active, killing Minke whales. He keeps two large boats in the harbor which are in immaculate condition and together with his warehouse, also immaculately kept, he is ready to start up again if the current situation changes or if he feels like going out whaling as this is also his hobby.  He still has a quota to kill 146 fin whales per year.
The big problem now is with the restaurants serving whale meat to tourists who misguidedly think that this is a traditional local dish. In fact, Icelanders rarely eat whale meat (less than 2%).  As Iceland's tourist business is rapidly growing (2006 was 40% up on 2005 with a total of 1.8m visitors and 2.5m are forecast for 2017) even a small number of restaurants serving whale meat can create a considerable demand. The Chinese are the fastest growing nationality amongst Iceland's tourist population and the most likely to eat whale meat. 65% of the whale meat goes to restaurants and 35% to stores. We did check out the stores and did find fresh and frozen whale meat. Many local people in the store didn't know where to find it so this backs up the statistics that show few Icelanders eat whale meat.
Sigursteinn Masson, with IFAW's campaign "Meet us don't eat us" is trying to spread awareness amongst the tourists that Icelanders do not eat whale meat and the whales are being killed simply to provide tourists with something unusual on the menu.
He is getting the companies that organize whale watching to explain to their clients at the end of the trip that eating whale meat in the restaurants is simply a death threat to the whales – the beautiful creatures that they will have just seen in their natural environment. It has taken him 14 years to get this far.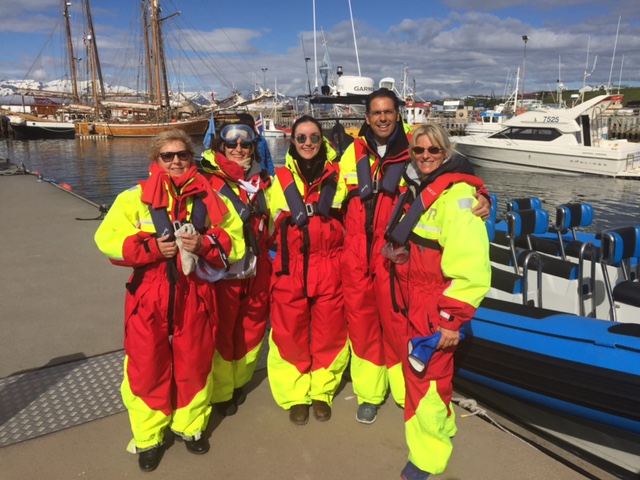 The Icelandic people are proud and if any extreme movement tries to tell them that they shouldn't be whaling it could have the reverse effect.  This is why for now he is promoting whale watching, a business with a 6 billion ISK turnover including peripheral activities (bus tours, etc.). One fifth of all tourists go whale watching.
Sigursteinn told us that he had a meeting with the minister of fisheries the following day but that the father of one of the principal whalers was in the government so trying to get any change in the law was not going to be easy!
After our meeting with Sigursteinn we went on our first "sustainable" whale watching tour. Although it was a great experience we were unlucky and didn't get to see any whales.  We took the tour with Elding which is one of the oldest established companies.  As Sigursteinn/ IFAW works closely with Elding they did mention about eating whale meat at the end of the tour. As we hadn't seen any whales we were given a free second chance to see them in Akureyri which is where we were heading the following day. Before leaving the harbor, we visited the Whales of Iceland museum which was a fascinating museum with life size models of whales hung from the ceiling in a way that made you feel that you were in the ocean with them. Lots of information were also given at the museum. It was very impressive.
The afternoon was given over to sightseeing and there is plenty to see in Iceland. We saw the hot geysers erupting several meters into the air or slowly bubbling in a steamy hot pool. We visited the waterfall Gullfoss that could compete with Niagara Falls and then in the evening we went to the Blue Lagoon. The Blue Lagoon is the ultimate spa.  Each guest is given a bathrobe and slippers and then while relaxing in the warm blue thermal waters you get a free drink and two free face masks, one which is silica mud and one algae.  The place is surreal – 10 o'clock at night, still daylight, 10 degrees outside but 30 degrees in the pool and everyone moving like ghosts through the steamy water with white faces (and a drink in hand). Not to be missed. The following day we had an early start (once again!) as we had a five-hour drive north to Akureyri.  The scenery was beautiful, lava covered with lichen, dramatic mountains, green plains, sunshine, rain, fog – it seems there is a bit of everything in Iceland.
We arrived in Akureyri in time for our second whale watching tour (our free second chance at seeing the whales). This time we were in a small RIB 12 seater boat.  The weather was perfect and as Akureyri is situated at the southern end of a fjord the sea was calm. We were assured that there were humpbacks out and about. Sure, enough there were. We had our first sightings and it was quite amazing – first you see the "blow" (the ejection of air as the whale comes up to the surface) then the whale appears, a huge graceful creature arching out of the water with barely a splash. Happy with our sighting we continued on to Huseviq where we were staying the night.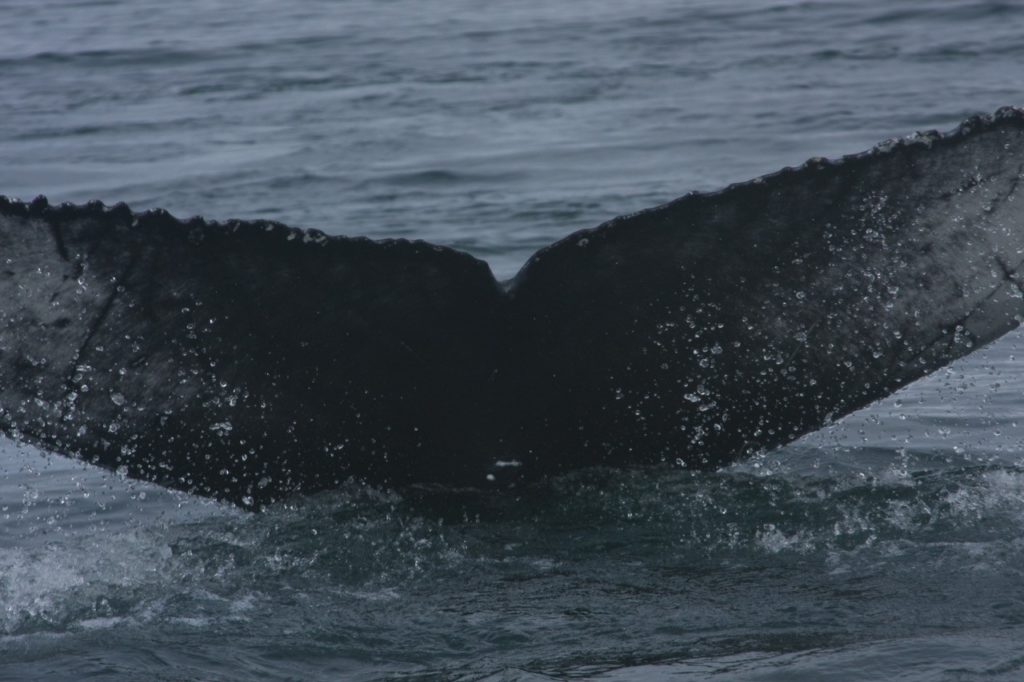 Berit had arranged a meeting with Belen, a young Spanish student preparing her doctorate and studying the effect of the environment on Whales, in particular the sound waves from boat engines.  She is spending some time in Huseviq and is carrying out sound tests with a sound engineer who has arrived from Belgium and other young students who are also following this research.
All this of course makes one stop and think that by providing whale watching for tourists Iceland is hopefully recuperating more financially than from the whaling…but is it good for the whales? There are now more and more boats going out on the whale watching trips and they don't all respect the recommended 50-100-meter distance from the whales. This is as close as the boat should get before shutting off the engine. Are the whales being perturbed when they are constantly being pursued by tourist filled boats? This is their natural habitat and with the long daylight hours and the warm currents the waters around Iceland are very rich in food so it should be an ideal environment for the whales.
We awoke on the third and final day of our trip to a wonderful sunny morning and a calm sea.  It was cold and the mountains were still capped in snow. There was a feeling of being very far north and we were told that we were just 30 miles from the arctic circle.
Once again, our trip was in a 12 seater RIB.  This trip was the grand finale of our tour.  We saw two humpbacks who came so close to us that we could have touched them. They stayed around us majestically appearing and disappearing in unison so huge and yet so graceful – it was magical!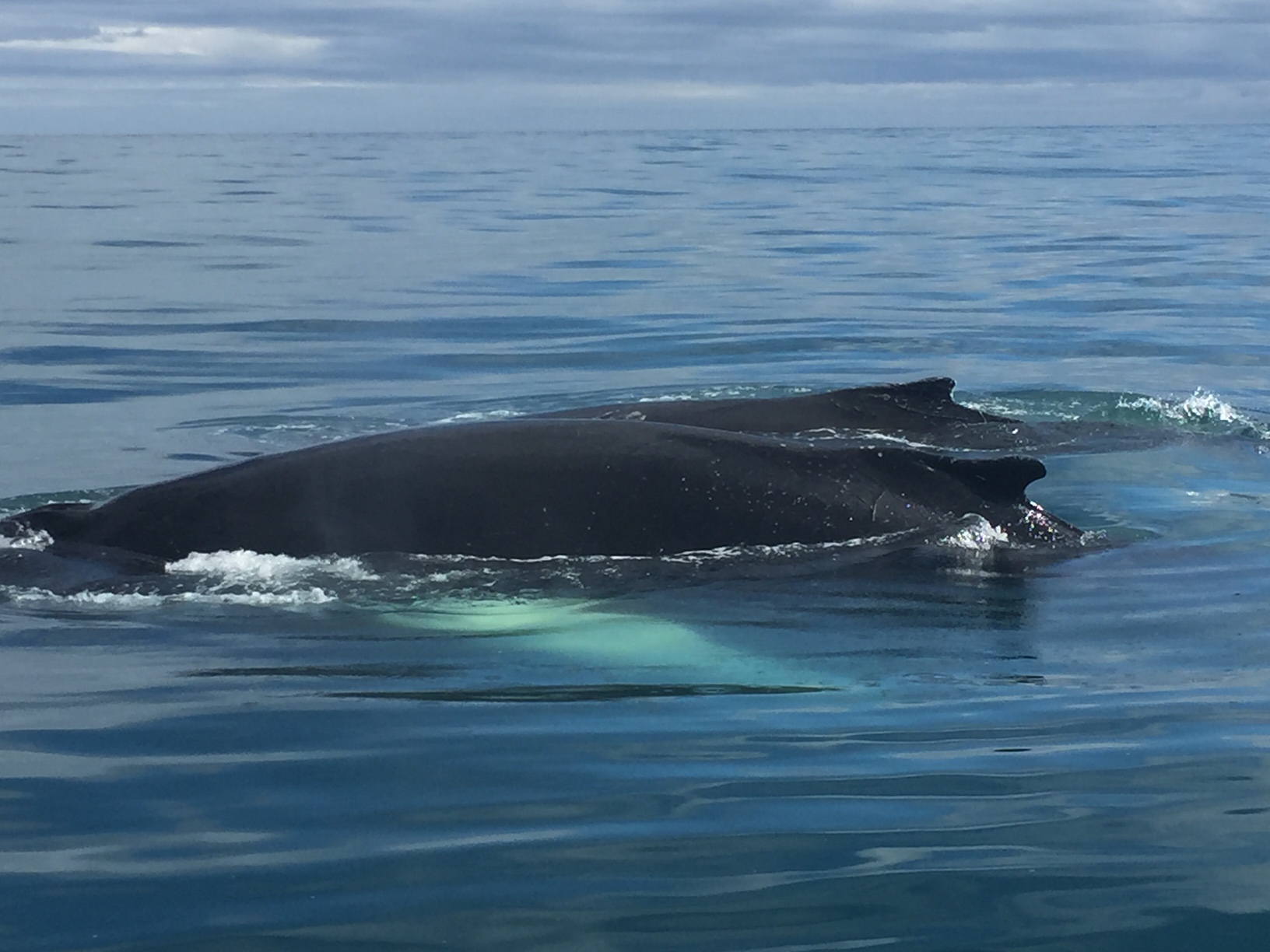 We left them in peace for a while and toured around the Puffin island, home to hundreds of puffins who come to breed. These pretty little birds return each year and stay with the same partner for life (in fact when they have finished mating they lose all their pretty colors, they go their separate ways and then they come back and find each other again the following year-once again covered with their colorful plumage).
We returned to the humpbacks and on the way, saw white beaked dolphins leaping about in the water and in the distance a Minke whale.
The Minke whales swim so fast (40 km/hour) that it is not easy to get close.
We found the two humpbacks again and spent some more memorable time with them before heading back to the harbor.
Berit got interviewed by Belen and her 2 reporter friends and there was time for a quick lunch before the journey back to Reykjavik, with our trip almost over.
That evening we treated ourselves to a lovely dinner- our last before flying back at 6am the following morning.
Whales no longer live in a pristine environment.
We have polluted their habitat with poisons that concentrate in their tissues.
Regardless of the amount the consumption of whale meat can expose humans to dangerous contaminants…..Maybe this will eventually put an end to the killing of whales for food!
In 2014 Iceland killed 161 whales, Japan killed 447 and Norway killed more than both.
Clare Mepstead, TAF member