During this campaign, TAF spends most of its time and effort to inform and educate the general public on the dangers of plastic pollution. The world is becoming increasingly aware of the high amounts of plastic floating on the surface of or in the ocean, laying on the beaches, and causing detrimental impacts to the Earth's wildlife. We are witnessing an upsurge of scientific studies, movies and documentaries demonstrating that plastic which ends up in the ocean eventually ends up on our plates. TAF promotes a plastic-free lifestyle by introducing sustainable materials into our daily routines.
What has changed since our last campaign?

Along with the significant increase in media coverage, some countries have begun to take action to tackle the environmental, social and health impacts of plastic pollution.
Iceland is the first country which vowed to eliminate plastic packaging on all own-branded products in local supermarkets. Similarly, the Netherland's Ecoplaza supermarket chain, which TAF visited in March 2018, have introduced the world's first plastic free aisle. In the UK, 40 companies have pledged to strip unnecessary plastic from their shelves by 2025. Furthermore, while Scandinavian countries have since long been adopting bottle-recycling systems in supermarkets, other European countries seem to be following similar paths.
As alternative products to plastic and entrepreneurial ways of cleaning the ocean are seeing their daylight, the problems associated to plastic pollution are far from being solved. Plastic bottles, cups, cutlery, packages (etc.) are still being overly used in restaurants, bars, supermarkets or even in people's homes. As a consequence, plastic waste on the planet's ecosystems have sparked numerous courageous and positive 'clean-up' projects. Although TAF regularly carries out beach and ocean clean-ups, they are realistically not enough to solve the overarching issue. They are often unfortunately neither enough to teach the general public to decrease their plastic consumption.
How was this campaign different from our fist plastic campaign?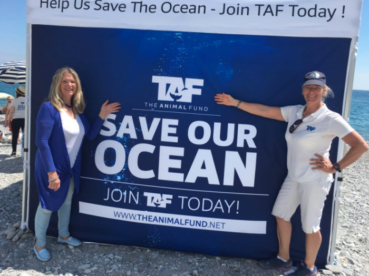 The activities and stands significantly differed from the first plastic campaign. Besides from the "Bin the Bottle" and "Water tasting" stand, 10 new educational games and stands were introduced. The knowledge gained over the past year allowed the TAF members to evermore strongly inspire the participants. People from all ages were welcome to join the event, yet the most important target generation were the children.



The first campaign was held at Larvotto Beach in Monaco on April 1st, 2017. TAF had the honor of collaborating with CSAM/Ecole Bleue and Pierre Frolla, a triple world's record-man in free immersion. The campaign was a great success and media, such as Monaco Info and Monaco Matin, reported directly from the location of the event.
This time, the campaign was held at the beach in Nice, France on May 20th, 2018. The change of location was considerably important in aiming to attract a larger number of participants.
As for the first campaign, the free event had an open access to the public. While the first campaign was strongly focused on the plastic bottle, the second campaign was more inclusive of other plastic utensils, such as cups, cutlery, and straws.
Educational Games and Stands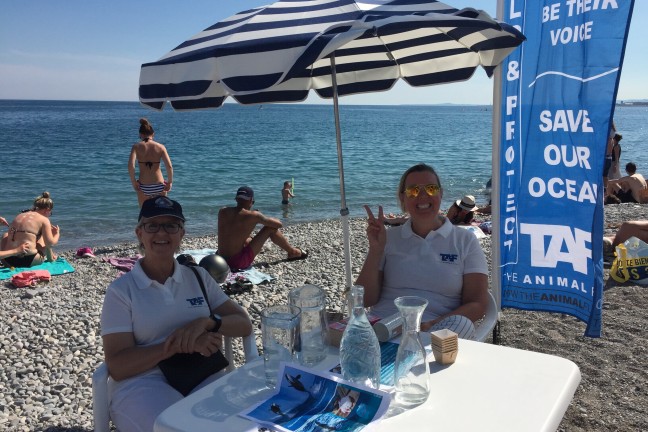 1. WATER TASTING: BOTTLE VS. TAP WATER
The aim was to taste the difference between bottled and tap water. A total of 80% failed the test! A good reason not to drink bottled water!​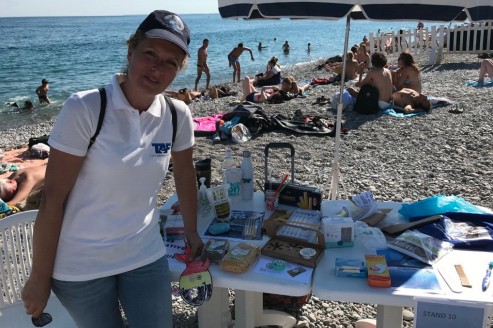 2. ALTERNATIVE STAND: PLASTIC VS. OTHER MATERIALS
Alternatives to plastic were presented, including packaged food from the Dutch Ecoplaza supermarket brought back from TAF's visit to Amsterdam in March 2018.​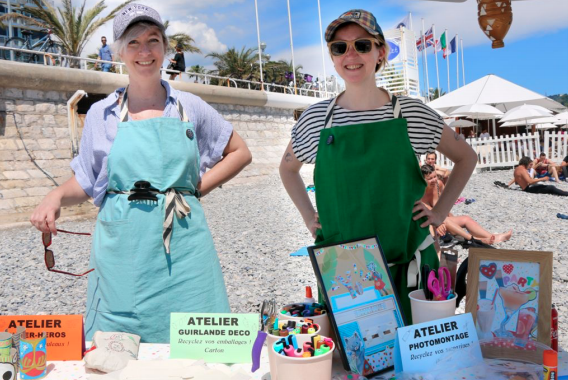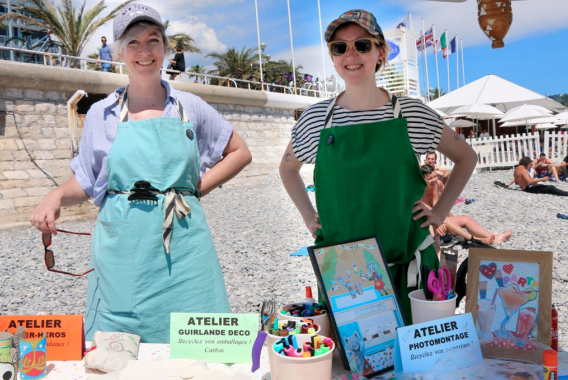 3. CREATIVE STAND: WHAT TO CREATE OUT OF PLASTIC ITEMS?
This stand aimed to engage volunteers to critically think about creative ways of recycling and reusing plastic to re-create objects.​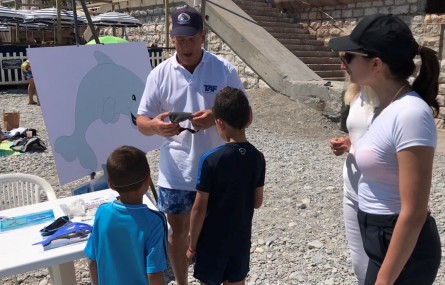 4. "PIN THE FIN": DOLPHIN ANATOMY
Participants were blindfolded and asked to reassemble the fins of the dolphin on a large cardboard while being educated about the dolphin's anatomy.​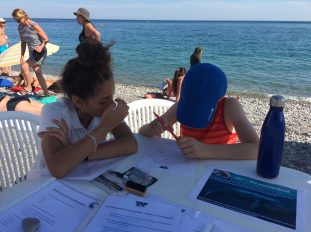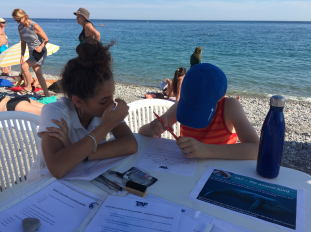 5. THREE DIFFERENT QUIZZES ABOUT MARINE LIFE
Three fun quizzes to test the participants' knowledge of marine life.
6. PAIR THE CARDS & PLASTIC POLLUTION QUIZ
A fun card game and quiz to test the participants' knowledge of plastic pollution in the ocean.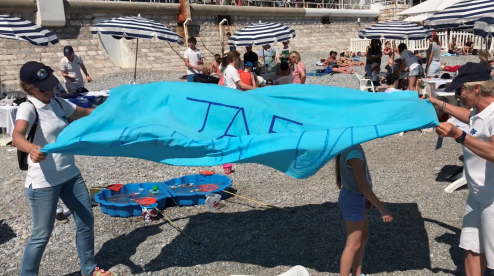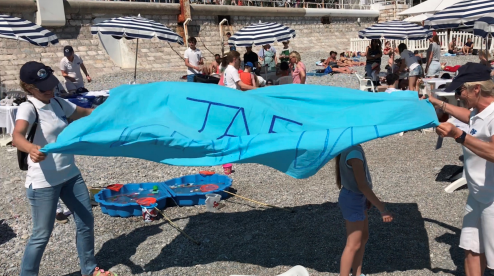 7. WHALE AND DOLPHIN SOUNDS AND ECHOLOCATION
Participants were taught to understand the ways in which dolphins and whales hear, as well as the dangers of sonar and explosions. Information on the mammals' speed of swimming and depth of diving was also given.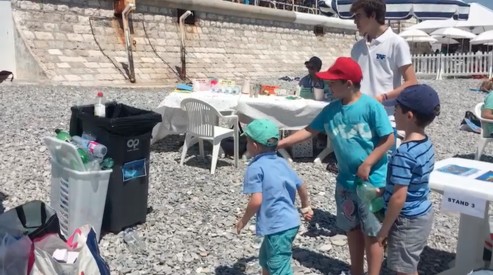 8. "BIN THE BOTTLE": THE IMPORTANCE OF RECYCLING
The aim of this game was to create awareness about plastic bottle manufacturing and composition (weight and materials) as well as plastic recycling rates in Europe. A fun game to teach about the importance of recycling.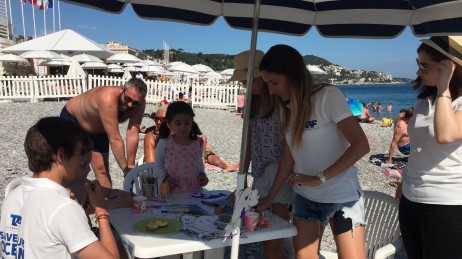 9. DOLPHIN MASKS: CREATE YOUR OWN DOLPHIN/WHALE MASK
Children were invited to draw their own masks while being educated about whales and dolphins.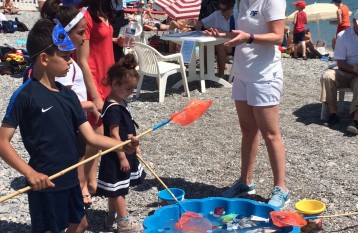 10. FISH THE PLASTIC
The aim of this game was to fish as much plastic as possible! A fun way to inform about plastic pollution in our ocean.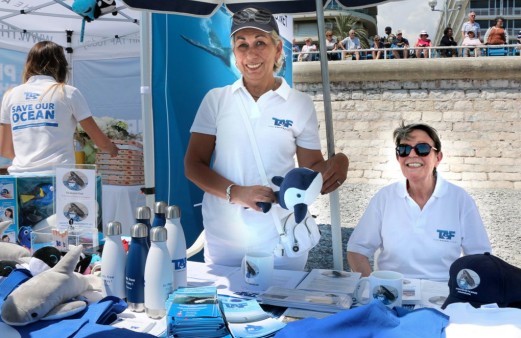 11. TAF STAND WITH MARKETING ITEMS: PROMOTING OUR STAINLESS STEEL BOTTLE
Many fantastic TAF branded products including our stainless steel reusable water bottle.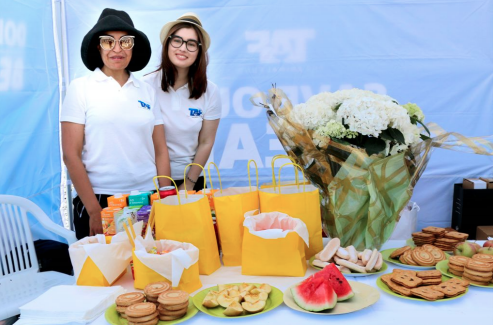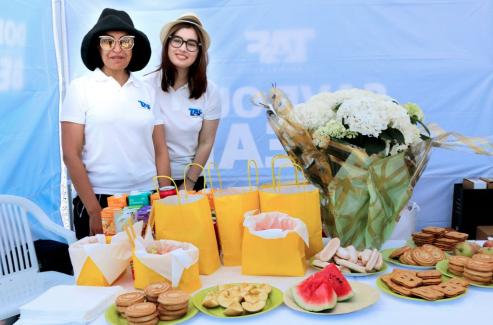 12. FOOD AND DRINK STAND
This stand provided all participants with plenty of free food and drinks.
Our plastic campaigns were successful in completing two objectives:
to inform the general public about the threats posed by humankind on the ocean's marine life,
to educate on ways to reuse, reduce and recycle plastic.
We would like to express our gratitude to Ville de Nice and especially to the Conseillère municipale Dr. Andrée Alziera-Negre for visiting and showing interest in our event. We would also like to thank Mr. Bonin, Mr. Moretti and Maison de l'Environnement for their huge support and interest, as well as their effective way of taking care of logistics and authorizations. TAF would also like to thank Plage Ruhl Restaurant for their help and kindness. 
A special thanks to the ISN students for their help!
And a warm thank you to Arbia and her daughter Olympias for providing drinks and snacks. 
Finally, but most important, a very warm thank you for all of the TAF members and volunteers – as without YOU, we couldn't have done it!
Equipped with a strong team of all ages and diverse backgrounds, TAF – The Animal Fund desires to continue to educate and inspire others to SAY NO TO PLASTIC!
Be Plastic Free, It's The Key!
As TAF is now well launched into its plastic campaign, we are proud to present our newest plastic-free stainless steel bottle.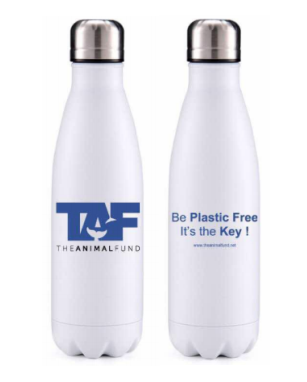 Purchase is available, click here
For more information on our fight against plastic, please review the 'Plastic Campaign' section on our website at TAF's 1st Plastic Campaign. 
Or review the video from Monaco Info from our first campaign or our own video here.
Find our video from our 2nd campaign.
Learn more about TAF – The Animal Fund on our website.
For updated news on our activities, follow us on social media (Facebook, Instagram, and YouTube).
This campaign has been financially supported by LUSH France.
The world produces currently 1 million plastic bottles every minute. It takes more than 450 years for a plastic bottle to degrade- if ever fully degraded!
Install more water fountains everywhere – ask your local authorities
Use other alternatives like stainless steel bottles, glass or bamboo and install a water filter at home 
THIS IS EASY TO CHANGE  – REMEMBER WE DIDN'T HAVE PLASTIC BOTTLES 50 YEARS AGO!